Celebrate Read a Book Day with Our Top 5 Adoption Reads for Parents
6th Sep, 2023
As Read a Book Day dawns upon us, Family Care Adoption Services is excited to share a heartfelt collection of books which we believe resonate with the adoption journey.
In this blog post, we've curated a selection of five exceptional books that will help navigate the intricate emotions and experiences that come with building families through adoption. These stories have been thoughtfully chosen to inspire, educate and provide comfort for parents, whether you are at the start of your adoptive journey or embracing the joys of parenthood!
No Matter What – Sally Donovan
This book follows the extraordinary journey of Sally and Rob Donovan, a seemingly ordinary couple whose path to parenthood takes an unexpected turn due to infertility. Donovan's witty storytelling unveils the challenges of infertility, their decision to adopt and the intricate adoption process they navigate. Their path leads them to two young siblings in need of a home. What begins as elation transforms into astonishment as the couple uncovers the difficult past of their new children. Faced with these revelations, Sally and Rob embark on a poignant journey, offering a unique glimpse into the world of adoptive parents.
The Unofficial Guide to Adoptive Parenting – Sally Donovan
Another recommendation by Sally Donovan (We are big fans at Family Care!). In this compassionate guide, Donovan draws on her own invaluable experience to shed light on the art of being a 'good enough' adoptive parent. Donovan states that this book took one year to write, and eleven years of research and her dedication shines through on every page.
The authenticity of Donovan's journey comes alive in this novel, a treasure trove of both wit and wisdom. Through relatable anecdotes gleaned from real-life moments in the Donovan houseful, the book becomes a touching testament to the challenges and triumphs of adoptive parenting. Whether it's the everyday hiccups or the tougher meltdowns, the book serves as a close-up and personal guide, equipping readers with first-hand insights on navigating the diverse array of issues that can arise in adoptive parenting.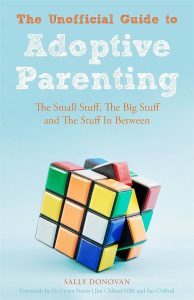 Creating Loving Attachments – Kim Golding and Dan Hughes
Unlocking a nurturing approach for parents and caregivers, this book introduces a powerful parenting model infused with love, play, acceptance, curiosity, and empathy (PACE) – the secret recipe for nurturing a child's growth and building unshakeable confidence and happiness.
At its core, the PACE model, encompassing Playfulness, Acceptance, Curiosity and Empathy, complements love in nurturing children's confidence and security. The best of this book is that it doesn't just explain the PACE model theory but through real-life examples and conversations, this book demonstrates how parents and caregivers can integrate PACE into your everyday moments.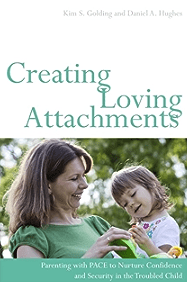 A Safe Place for Caleb – K Chara and Paul Chara
A Safe Place for Caleb offers a comprehensive illustrated resource for all those dealing with attachment problems. The interactive story follows Caleb, a young boy navigating challenges in forming relationships. He discovers coping strategies on his journey to 'the safe tree house' where he learns the four 'attachment healing keys'.
The second half of the book summarises current attachment science, providing assessment tools, techniques and resources for addressing attachment issues.
Rooted in psychological principals, this book is an imaginative guide for parents, professionals, caregivers and anyone facing attachment challenges.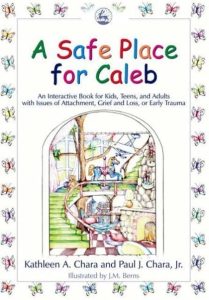 The A-Z of Therapeutic Parenting – Sarah Naish
Discover the transformative world of therapeutic parenting through 'The A-Z of Therapeutic Parenting.' This book delves into the nurturing parenting style which can be especially effective for children struggling with attachment issues or childhood trauma.
Within this book, you will find a comprehensive model of intervention, offering parents and caregivers clear solutions in addressing any challenges presented by their children. The structured approach of this book makes it easy to navigate a total of 60 common problems faced by parents from aggression to sleep disturbances.